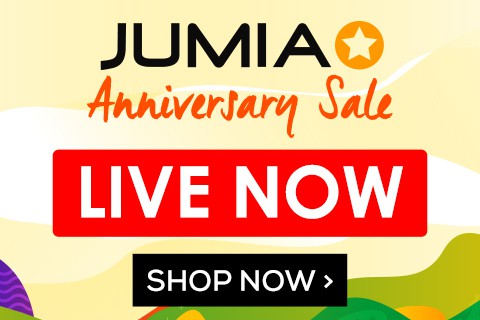 In this post I will be telling you how to get the best deals at the Jumia anniversary sales. I will show you how you can get a 4G Android smart phone for just N500 only and how you can get any product you want for up to 99% discount.
Hurray! Jumia is 7 and to mark their anniversary, Jumia is launching Jumia anniversary sale from 12am 24th of June till 7th of July. There are lot of mouth watering and unbelievable deals that are available and if you are smart enough you can get up to 99% discount deals on any product of your choice. Stay tuned to see how.
Categories Of Deals In The Jumia Anniversary Sale
Jumia is offering 5 different categories of deals in this year's anniversary sale. I will list them below and tell you how you can be a part of it.
Mega Flash Sales
The mega flash sales at the Jumia anniversary sales starts 9qm daily from the 24th of June till 7th of July. The mega flash sales offer the most exciting deals as popular products are listed at very dirt cheap prices up to 99% discount. The mega flash sales are usually a case of the fastest fingers first as products run out of stock in seconds so you need to use the point and kill strategy if you will be among the lucky people to get hold of these deals.
To get access to Jumia Mega Falsh Sales, click here now=> "MEGA FLASH SALES"
Everything You Need T0 Know About Jumia's Flash Sales
Selected products are offered to the public at highly subsidized prices by Jumia. Discount level can be as high as 90% off depending on the offer
The number of products are of a limited quantity.
Flash sales go live at a specified time.
Flash sales are only available on the Jumia App.
Flash sales are usually limited to one item per customer.
As selected products are popular and of limited quantity, you can expect them to sell out very quickly.
Flash sales typically sell out in seconds.
Finding an item and adding it to your cart is no guaranty that you will be able to checkout with it before others.
Bear in mind that tens of thousands of people are on the same page trying to buy the same product.
It's really a case of the fastest fingers first.
You need to be super quick with your phone and on a fast and stable internet connection to buy a flash sale.
Jumia reserves the right to cancel orders it deems as fraudulent.
Jumia reserves the right to change products offered for flash sales.
500 Naira Jumia Shop
The 500 Naira Jumia Shop is a new initiative introduce at this year's Jumia anniversary sale. With the 500 Naira shop you get access to all products listed for not more than 500 Naira. i believe this is going to be the best deal category at this year anniversary as some very popular and expensive products are listed for just 500 Naira and below.
I saw a 4G Android phone listed for just N500 and even saw some nice shoes listed for below N500.
Just like the mega flash sales, the 500 Naira Jumia shop is also fastest fingers first and you need to be extremely fast as products sold out within 5 secs.
To access the 500 Naira Jumia Shop, click here=> "500 Naira Jumia Shop"
The Jumia Daily Live Giveaways
The daily live giveaways starts by 12pm daily and during this live section Jumia will be giving away popular products live. This is simply on a luck basis.
To make yourself eligible for the giveaways follow the steps listed below:
Create an account on Jumia or login if you have an account
During the live session, submit your phone number in the comment section
Jumia will randomly pick 10 numbers to call during the live session
If you are one of the lucky 10, you will need to pick a number on the call
The number on the board will unveil your FREE gift
To access the daily giveaways click here=>> "Jumia Daily Live Giveaways"
Jumia Predict And Win
Jumia predict and win offers Jumia customers the opportunity to predict the score of a match and win exciting prizes. See the steps below to guide you on how to participate
You have to log in to your Jumia account to make your prediction
Only one winner will win per match in all the matches displayed on this page
The first 500 participants to get the correct prediction will win ₦500 each.
The ₦500 will be credited to the winners' Jumia Pay Wallet between Monday and Thursday of the week following the game.
To participate, you are expected to predict the final scoreline of the AFCON game displayed at the end of 90 minutes. Extra time and penalties are excluded.
By entering this Competition, a Participant is indicating his/her agreement to be bound by these Terms and Conditions.
To get access to the Jumia predict and win, click here==> "Jumia Predict and Win"
Daily Anniversary Deals
The daily anniversary deals on Jumia is the largest pool of deals available during the Jumia anniversary sales. Here you dont have to worry about being the fastest finger as deals are available in very large quantity and a deal become close only when it is out of stock.
You can get any product of your choice for as low as 60% discount and there are many deal to choose from. The products listed in this category are tagged "Anniversary deal"
To get access to this just click here=>> "Jumia Anniversary Deal"
How To Get The Best Deals On Jumia Anniversary Sales
Below are the steps you need to take if you want to get the best and cheapest deals at the Jumia Anniversary Sales
Ensure that you have a very fast and stable internet connection.
Register on Jumia if you have not done so
Make sure you download the Jumia mobile app as the best of deals are released only on the mobile app.
Always make sure you are available before the time the deals will go live
Make sure you have edited your delivery address to your present preferred location for delivery and has set it as default.
Make sure you fund your Jumia pay wallet as this will ensure you checkout faster than others.