Frederick Leonard Biography, Movies, Awards, and Net Worth
Biography
Frederick Leonard is a Nigerian actor and top-notch model. He can be described as a lady's man as he has numerous female fans who described him as a handsome guy with a great physique. Frederick Leonard is not all good for his physical attributes only but he is also a very gifted, creative, and talented actor that interprets his roles perfectly.
Frederick Leonard was born on the 1st of May 1976. He is a native of Anambra State, in the southeastern part of Nigeria. He is the first child in a family of 2 children. He is currently 43 years of age.
Education
Frederick Leonard studied Biochemistry at the popular Kaduna State Polytechnic and graduated with a Higher National Diploma (HND) in the year 2008. He has since fully joined the Nigerian film industry popularly referred to as Nollywood and he is currently one of the trending actors in the country.
Family and Marriage

Frederick Leonard is of Ibo origin born to Ibo parents in the Southeastern part of Nigeria, specifically Anambra State.
He is not yet married and he is considered as one of the most eligible bachelors in the Nigerian Entertainment Industry.
Scandals
like all popular actors, Frederick Leonard has had his own share of scandals and rumors. It was reported in 2016 that he was bleaching but he has since debunked the rumors that life has only gotten easier for him so it's natural that his skin gets fresher and more good-looking.
It was also reported that he was in a relationship with various actresses and he has also debunked those rumors as presently he is still single.
Career
Frederick Leonard made a cameo appearance in the Nigerian movie industry in 2001 but he joined the industry fully in the year 2008, acting in the blockbuster movie "Indian Doctor" the movie that brought him to the limelight. He also featured in the hit TV series "Disclosure" the following year 2009 and since then, he hasn't looked back, in fact, he has risen to the level of A-list actors with numerous award-winning performances.
He has signed a lot of sponsorship, advertisement, and endorsement deals. Earlier this year he was unveiled as the "Face of Diamond Ark Lifestyle" a menswear fashion brand company founded by a Nigerian fashion icon based in India John Uche.
He is believed to have a very great fashion sense and has been described as having the best wardrobe at various movies and entertainment functions. His unique fashion styles have endeared him to most fans, particularly the female folks.
Frederick Leonard has a Firm Belief that African Cinema is a strong medium through which we can tell our stories, and inform and market our culture and values as Africans to the world.
Movies
Frederick Leonard has acted in over 80 Nollywood movies and television series many of which are blockbusters. he has acted alongside prominent figures and big names in Nollywood which includes Chelsea Eze, Ruth Kadiri, Tonto Dikeh, Chacha Ekeh, Ken Erics, Uti Nwachukwu, RMD, Ramsey Nouah, and a host of other top actors and actresses in Nigeria.
Federick Leonard's Movies and TV Series
| Movie/TV Series | Year |
| --- | --- |
| Memoirs of 4 | 2018 |
| Mr. Perfect | 2018 |
| Heartbeat | 2017 |
| Discontent | 2017 |
| The Aggregator | 2017 |
| Accident | 2013 |
| Alero's Symphony | 2011 |
| Disclosure | 2009 |
| Indian Doctor | 2008 |
| Barrister Anita | |
| We of Love | |
| A Better Family | |
| Career Woman | |
| Career Woman 2 | |
| A Monster Under My Skin | |
| Woeman | |
| Faze | |
| The Script | |
| The Surrogate | |
| Emergency | |
| Pot of Life | |
| Twisted Destiny | |
| Pot of Life 2 | |
| Disturbed | |
| Before Getting Married | |
| A Monster Under My Skin 2 | |
| Baby Boy | |
| Loving in Pain | |
| Beyond Love | |
| Doctor May | |
| Promise Beyond | |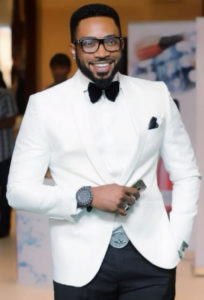 Awards
Frederick Leonard has won quite a number of awards in the course of his amazing career as a professional actor. He won Best Actor of the Year at AFRIFIMO Awards, Best Supporting Actor at GIAMA Awards, Most Promising Actor in Nigeria at the City People Entertainment Awards, and Best Actor in a Supporting Role at the Africa Magic Viewers Choice Awards.
Net Worth
Frederick Leonard's popularity has risen over time and at a very fast rate in Nollywood, and as his popularity rises so his net worth also increases. It is believed that he earns at least $2500 per movie.
Presently, Frederick Leonard has an estimated net worth of $420,000 making him one of the richest and most influential actors, models, and television personalities in Nigeria. Most of his net worth is derived from movie royalties, sponsorship, and endorsement deals.