Silverbird cinema Festival Mall FESTAC is an ultramodern state of the art cinema located in FESTAC Lagos State Nigeria. It is part of the Silverbird Group of Multiplex Cinemas, which comprises of 8 other cinemas across Nigeria, Ghana and Liberia.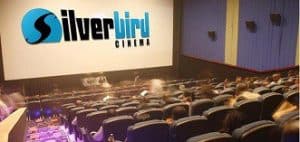 Silverbird group launched it first cinema at the Silverbird galleria Victoria Island Lagos in the year 2004 and has since been committed to delivering quality and unforgettable cinema experience.
Early in the year 2018, Silverbird group became the first cinema in Africa to introduced the 4DX cinema experience. With The 4DX experience you will actually feel and smell the surrounding of the actual film location as if you were there live.
You will feel vibration during a collision, feel the mist when its raining and even perceive the smell right there on your seat as you watch the movie. 4DX is the latest technology in cinema and its a truly unforgettable experience.
Apart from Silverbird cinema FESTAC, these are the rest of the silverbird cinemas in Nigeria: Silverbird cinemas Galleria Victoria Island, Silverbird cinema Ikeja, Silverbird cinema SEC Abuja, Silvebird cinema Jabi Lake Mall Abuja, and Silverbird cinema Ibom Tropicana Uyo.
Schedule of Moving Showing At Silverbird Cinema FESTAC This Week
Below is the schedule of movie showing at Silverbird cinema FESTAC this week. The schedule starts on Friday and end on Thursday. Every week, I will be updating this list so you can be sure of getting the latest update whenever you visit.
I will advise you to bookmark this page so you can easily come back whenever you need to know the current complete schedule of movies showing at the Silverbird cinema FESTAC.
Movies Showing At Silverbird Cinema FESTAC This Week (Fri 17/05/2019- Thurs 23/05/2019)
Movie
Showtime
AVENGERS ENDGAME
FRI-SUN: 5:45pm, 8:45pm
MON-THUR: 5:45pm, 8:45pm
John Wick: Chapter 3 - Parabellum
FRI-SUN: 11:50am, 2:05pm, 4:20pm, 6:40pm, 8:55pm
MON-THUR: 11:50am, 2:05pm, 4:20pm, 6:40pm, 8:55pm
Long Shot
FRI-SUN: 6:35pm
MON-THUR: 6:35pm
The Sun Is Also a Star
FRI-SUN: 1:55pm, 3:50pm
MON-THUR: 1:55pm, 3:50pm
The Intruder
FRI-SUN: 1:25pm
MON-THUR: 1:25pm
Gold Statue
FRI-SUN: 10:00am, 5:05pm
MON-THUR: 10:00am, 5:05pm
Love Or Quest
FRI-SUN: 6:35pm
MON-THUR: 6:35pm
Cold Feet
FRI-SUN: 3:15pm, 9:00pm
MON-THUR: 3:15pm, 9:00pm
Pokémon Detective Pikachu
FRI-SUN: 10:00am, 12:05pm
MON-THUR: 10:00am, 12:05pm
Clustered Colors
FRI-SUN: 11:45am
MON-THUR: 11:45am
Festival Mall, FESTAC, Movie Ticket Prices & Promos
Monday Special: Ticket ₦1,500 (Popcorn)
Tuesday: Ticket ₦1,500 (Popcorn)
Wednesday: Ticket ₦1,500 (Popcorn)
Thursdays: Ticket ₦1,500 (Popcorn)
Weekends: Ticket ₦2,500(Drink + Popcorn).
School Excursion (Monday-Thursday): Ticket ₦1000/Person (Popcorn + Drink)
Blockbuster Movies: Ticket ₦3,000 (Popcorn + drink).
For more enquiries, call the box office on08020896018, (MON-SUN: 9am – 9pm)
Silverbird Cinema Festival Mall FESTAC, Location and Contact details
Address: Festival Mall, Janet Faje Street, Amuwo Odofin Estate, Lagos.

Box Office / Movie Enquiries: +234 8020896018
Box Office Working Hour: MON-SUN: 9am – 9pm
Business Manager: +234 8099552919
Marketing / Advert: +234 8139288803 / +234 8131277268
If you want to know about the movie schedule of other cinemas in the country or you want something different from what Silverbird is offering, this post  "Top Cinemas In Nigeria" will give you a detailed and concise guide.
Have you ever been to the Silverbird Cinema FESTAC Lagos to watched a movie? What was your experience like? What are the things that standout or things you feel need improvement? Kindly share your thought with us in the comment section below.
Also, you can reach us through the comment box if you have any question or you are in need of any information as regards Silverbird cinema FESTAC or any cinema in the country, just drop your queries in the comment section and you will get an answer within 4 hours.