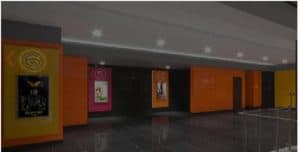 Viva Cinemas, one of the leading cinema operators in Nigeria is owned by The Persianas Group, The Persianas Group was founded in 1990 and it has grown significantly since then.
Viva Cinemas was launched into the Nigerian market in 2015 in Ilorin the Kwara State capital. Viva Cinemas was later launched in Ibadan The Oyo State capital. The company is committed to serving over 10 million customers each year. Since its launch, Viva Cinemas currently has 4 state – of – the – art namely: Viva cinemas in Ilorin (Kwara State), Viva cinema Ota, Viva Cinema Enugu and Viva cinema Ibadan (Oyo State) with expansion plans to increase to other locations in the country.
Complete List of Movies Showing At Viva Cinema Ibadan This Week (Fri 8th November, 2019 – Thur 14th November, 2019)
Below is the complete list of movies now showing at Viva Cinema Ibadan for this week.
Please note that this list will be updated weekly so you can check back to get the current schedule for the week.
Henry Brogan is an elite assassin who becomes the target of a mysterious operative who can seemingly predict his every move. To his horror, he soon learns that the man who's trying to kill him is a younger, faster, cloned version of himself.
Director Ang Lee
Starring Will Smith, Mary Elizabeth Winstead, Clive Owen, Benedict Wong, Ralph Brown
Released 11 October, 2019
Running time 100 mins
Elevator Baby follows the story of Dare (Egbuson), a privileged young man with a fiery temper, who gets stuck in an elevator with a semi-literate pregnant woman (Abraham). As she goes into labour in the lift, Dare is left with no choice but to try and save both mother and child.
Director Akay Mason
Starring Toyin Abraham, Timini Egbuson, Samuel Olatunji, Sambasa Nzeribe, Emem Ufot, Broda Shaggy, Shaffy Bello
Released 11 October, 2019
Running time 109 mins
Showing: 11:00 am 8:40 pm
Maleficent: Mistress of Evil
A formidable queen causes a rift between Maleficent and Princess Aurora. Together, they must face new allies and enemies in a bid to protect the magical lands which they share.
Director Joachim Rønning
Starring Angelina Jolie, Sharlto Copley, Elle Fanning, Sam Riley, Imelda Staunton, Juno Temple, & Lesley Manville
Released 16 October, 2019
Running time 118 mins
Showing: 10:00 am 3:35 pm
A rookie policewoman in New Orleans inadvertently captures the shooting death of a young drug dealer on her body cam. After realizing the murder was committed by corrupt cops, she teams up with the only person from the community who's willing to help her. Now, she finds herself on the run from both the vengeful criminals and the lawmen who desperately want to destroy the incriminating footage.
Director Deon Taylor
Starring Tyrese Gibson, Naomie Harris, Deon Taylor, Frankie Smith, Nafessa Williams
Released 25 October, 2019
Duration 108 min
Showing: 8:25 pm
Sarah Connor joins forces with a female cyborg to protect a young girl from a powerful new Terminator.
Director Tim Miller
Starring Linda Hamilton, Arnold Schwarzenegger, Mackenzie Davis, Natalia Reyes, Gabriel Luna, Diego Boneta
Released 1 November, 2019
Showing: 1:05 pm 3:10 pm 7:10 pm
A commitment-phobic 27 year old's relationship is put to the test when she and her new boyfriend go to 7 weddings in the same year.
Director Robert Luketic
Starring Sarah Hyland, Tyler James Williams, Jenna Dewan, Matt Shively and Anna Camp.
Released 25 October, 2019
Duration 90 mins
Showing: 9:05 pm
Living in Bondage: Breaking Free
Living in Bondage the sequel tells the story of Nnamdi, Andy Okeke's mysterious son, and his vaunting quest for the big life, one that he would do whatever it took to realize. Nnamdi's untamed quest for the quick buck, fast car, easy living, inevitably took him on a perilous journey.
Director Ramsey Nouah
Starring Ramsey Nouah, Kenneth Okonkwo, Kanayo O. Kanayo, Enyinna Nwigwe, Nancy Isime, Munachi Abii
Released 6 November, 2019
Running time 104 mins
Showing: 12:20 pm 5:40 pm
Years following the events of "The Shining," a now-adult Dan Torrance meets a young girl with similar powers as he tries to protect her from a cult known as The True Knot who prey on children with powers to remain immortal.
Director Mike Flanagan
Starring Ewan McGregor, Rebecca Ferguson, Carl Lumbly, Zahn McClarnon, Emily Alyn Lind, Bruce Greenwood, Jocelin Donahue, Alex Essoe, and Cliff Curtis
Released 8 November, 2019
Running time 151 mins
Showing: 4:25 pm
The story of the Battle of Midway, told by the leaders and the sailors who fought it.
Director Roland Emmerich
Starring Ed Skrein, Patrick Wilson, Luke Evans, Aaron Eckhart, Nick Jonas, Mandy Moore, Dennis Quaid and Woody Harrelson.
Released 8, November 2019.
Running time 138 mins
Showing: 11:40 am
The story of a man who is balding prematurely and how he copes up with the situation.
Director Amar Kaushik
Starring Ayushmann Khurrana, Bhumi Pednekar, Yami Gautam, Javed Jaffrey and Saurabh Shukla
Released 8 November, 2019
Running time 133 mins
Showing: 6:05 pm
Viva Cinema Ibadan Ticket Prices and Promo

Viva Cinema Ibadan Ticket Prices and Promo
Day
Ticket Type
Price
Mon
Monday Ticket
Monday Magic (+popcorn)
N800
N1000
Tue
Tuesday Ticket
Tuesday Treat (+popcorn or Chicken Hotdog)
N800
N1000
Wed
Wednesday Awoof (ticket + petdrink)
N500
Thur
Thursday Ticket
Thursday Treat (+popcorn)
N800
N1000
Fri
Fun Fridays (ticket + Drink)
N700
Sat- Sun
Weekend Groove
Student Discount
N1000
N500
Mon- Sun
Blockbuster Movies (+ Popcorn)
N1500
Public Holidays
Adult
Children
Students
N1000
N1000
N1000
Viva Cinema Ibadan Location And Contact
The Palms Shopping Mall, Ring Road, Ibadan – Oyo State
ibadan@vivacinemas.com
+234-817-215-1180