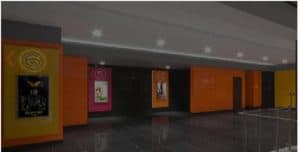 Viva Cinemas, one of the leading cinema operators in Nigeria is owned by The Persianas Group, The Persianas Group was founded in 1990 and it has grown significantly since then.
Viva Cinemas was launched into the Nigerian market in 2015 in Ilorin the Kwara State capital. Viva Cinemas was later launched in Ibadan The Oyo State capital. The company is committed to serving over 10 million customers each year. Since its launch, Viva Cinemas currently has 4 state – of – the – art namely: Viva cinemas in Ilorin (Kwara State), Viva cinema Ota, Viva Cinema Enugu and Viva cinema Ibadan (Oyo State) with expansion plans to increase to other locations in the country.
Complete List of Movies Showing At Viva Cinema Ibadan This Week (Fri 14th June, 2019 – Thur 20th June, 2019)
Below is the complete list of movies now showing at Viva Cinema Ibadan for this week.
Please note that this list will be updated weekly so you can check back to get the current schedule for the week.
John Wick: Chapter 3 – Parabellum
After gunning down a member of the High Table — the shadowy international assassin's guild — legendary hit man John Wick finds himself stripped of the organization's protective services. Now stuck with a $14 million bounty on his head, Wick must fight his way through the streets of New York as he becomes the target of the world's most ruthless killers.
Director Chad Stahelski
Starring Keanu Reeves, Laurence Fishburne, Mark Dacascos, Asia Kate Dillon
Released 17 May, 2019
Running time 131 mins
Showing: 10:30 am 4:55 pm
Young Aladdin embarks on a magical adventure after finding a lamp that releases a wisecracking genie.
Director Guy Ritchie
Starring Will Smith, Mena Massoud, Naomi Scott, Marwan Kenzari, Navid Negahban, Nasim Pedrad
Released 24 May, 2019
Running time 128 mins
Showing: 

2:25 pm
During a life-threatening rescue mission in space, Jean is hit by a cosmic force that transforms her into one of the most powerful mutants of all. Wrestling with this increasingly unstable power as well as her own personal demons, Jean spirals out of control, tearing the X-Men family apart and threatening to destroy the very fabric of our planet.
Director Simon Kinberg
Starring James McAvoy, Michael Fassbender, Jennifer Lawrence, Nicholas Hoult, Sophie Turner
Released 5 June, 2019
Running time 120 mins
Showing: 1:10 pm 5:40 pm 8:20 pm
Mokalik is a comedy drama, which follow a day in the life of 11-year-old Jaiye, who is sent by his parents to work at a mechanic workshop for the day— in order to give him a different perspective on life. When his father arrives to take him home; Jaiye has to make up his mind if he wants to return to school or take on his apprenticeship full time.
Director Gabriel Afolayan
Starring Ayo Adesanya, Simi, Charles Okocha, Fathia Balogun, Femi Adebayo
Released 31 May, 2019
Running time 100 mins
Showing: 4:00 pm 7:25 pm
Godzilla: King of the Monsters
Members of the crypto-zoological agency Monarch face off against a battery of god-sized monsters, including the mighty Godzilla, who collides with Mothra, Rodan, and his ultimate nemesis, the three-headed King Ghidorah. When these ancient super-species-thought to be mere myths-rise again, they all vie for supremacy, leaving humanity's very existence hanging in the balance.
Director Michael Dougherty
Starring Kyle Chandler, Vera Farmiga, Millie Bobby Brown, Bradley Whitford, Sally Hawkins
Released 31 May, 2019
Running time 132 mins
Showing: 11:25 am
In the adorably different town of Uglyville, weirdness is celebrated, strangeness is special and beauty is embraced as more than meets the eye. After traveling to the other side of a mountain, Moxy and her UglyDoll friends discover Perfection — a town where more conventional dolls receive training before entering the real world to find the love of a child. Soon, the UglyDolls learn what it means to be different — ultimately realizing that they don't have to be perfect to be amazing.

Director Kelly Asbury
Starring Kelly Clarkson, Janelle Monáe, Blake Shelton, Wanda Sykes, Gabriel Iglesias, Wang Leehom, Bebe Rexha, Charli XCX, Lizzo, Nick Jonas, Pitbull
Released 7 June, 2019
Running time 92mins
Showing: 10:30 am
Mothers and Daughters In-Law
When three mothers go to visit their married sons, they get into avoidable drama with their daughters in-law, just when the situation is being managed they find out they are the topic of a novel being written by one of the daughters in-laws cousin!
Director Kehinde Olorunyomi
Starring Ebele Okaro, Frankincense Echeben, Iyabo Ojo, Jide Kosoko, Kehinde Olorunyomi, Kenneth Okolie, Monica Friday, Rachel Oniga, Shaffy Bello
Released 7 June, 2019
Running time 90 mins
Showing: 12:20 pm
Men in Black: International
Chris Hemsworth and Tessa Thompson star as Agent H and Agent M, who employ high-tech weaponry to battle mischievous aliens on Earth. However, the pair also discover a major threat within their own ranks.
Director F. Gary Gray
Starring Chris Hemsworth, Tessa Thompson, Liam Neeson, Rebecca Ferguson, Kumail Nanjiani
Released 14 June, 2019
Running time 115 mins
Showing: 3:25 pm 7:50 pm
In the mid-nineties, a 12 year-old boy (KOSSI) with genius-level intelligence, is one of many children trafficked through the Nigerian borders from Togo. He ends up with the MARTINS, an upper-middle class family of 4 in Lagos. He relies on his natural abilities and talent to carve out a way for himself, soon discovering the art of counterfeit money printing and floating the most flawless counterfeit dollars this side of the world.
Director Akinyemi Sebastian Akinropo
Starring Gabriel Afolayan, Damilola Adegbite, Dakore Akande, Wale Ojo, Bolanle Ninalowo, Odunlade Adekola
Released 14 June, 2019
Running time 100 mins
Showing: 2:00 pm 6:20 pm
Viva Cinema Ibadan Ticket Prices and Promo

Viva Cinema Ibadan Ticket Prices and Promo
Day
Ticket Type
Price
Mon
Monday Ticket
Monday Magic (+popcorn)
N800
N1000
Tue
Tuesday Ticket
Tuesday Treat (+popcorn or Chicken Hotdog)
N800
N1000
Wed
Wednesday Awoof (ticket + petdrink)
N500
Thur
Thursday Ticket
Thursday Treat (+popcorn)
N800
N1000
Fri
Fun Fridays (ticket + Drink)
N700
Sat- Sun
Weekend Groove
Student Discount
N1000
N500
Mon- Sun
Blockbuster Movies (+ Popcorn)
N1500
Public Holidays
Adult
Children
Students
N1000
N1000
N1000
Viva Cinema Ibadan Location And Contact
The Palms Shopping Mall, Ring Road, Ibadan – Oyo State
ibadan@vivacinemas.com
+234-817-215-1180